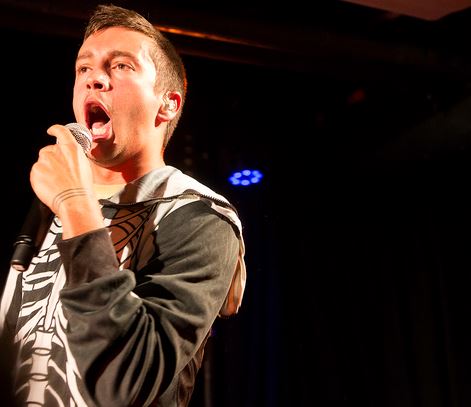 Two 20-year-old guys walk on stage in the Fillmore Theatre in Detroit wearing eerie white masks and skeleton shirts, welcomed by hundreds of screaming fans.  Judging by the audience's appearance, this definitely is not a One Direction concert.
The lights flicker like a strobe light, and the first song starts.  It sounds like a mix of techno, rock, and rap—as if three different songs were mashed into one.
The song is "Ode to Sleep," and the two guys make up the musical group, Twenty One Pilots.
The first time I listened to Twenty One Pilots, I was taken aback by the sudden beat changes and intense singing. I did not think much of their songs, other than the fact that they were pretty catchy.
I was very wrong.
After going to their concert, prior to which I had only heard two or three songs, I decided to buy their album and give them another chance.  To my surprise, I found myself putting Vessel on repeat every day.
Slowly the messages present in the songs became clear to me, and I was absolutely shocked to find a very obvious Christian-like message in these edgy, rock songs.  Perhaps I was surprised because of the fact that Twenty One Pilots do not label themselves as a Christian rock band, or of my preconceived idea that Christian bands are limited to peaceful sounds, banjos, and harmonicas.
Obviously, people formulate their own diverse interpretations of songs but, to me, the message is so evident.  In the song "Screen," for example, Twenty One Pilots directly address God:
I do not know why I would go
In front of you and hide my soul
Cause you're the only one who knows it,
Yeah you're the only one who knows it
And I will hide behind my pride
Don't know why I think I can lie
Cause there's a screen on my chest
Yeah there's a screen on my chest
Hearing lyrics with relatable, meaningful lyrics truly puts into perspective the kind of music playing on the radio today.  Whether it's Lady Gaga saying, "Do what you want with my body," or Selena Gomez singing, "When you're ready come and get it," too many songs today are popularized simply because of the celebrity-status of the singer, despite the twisted message the song conveys.
Twenty One Pilots, however, proves that catchy music can include virtuous, honest lyrics without conforming to objectionable messages as seen in pop culture.
"I like Twenty One Pilots because they are so different and unique," said senior Lauren Jackson.  "There really is no one else like them."
After I understood the messages in their songs, I stumbled upon a blog post by Fr. Damian Ference from Cleveland, Ohio, raving about the depth of Twenty One Pilots and their ability to communicate with such a wide audience.  His words are inspired by Pope Francis himself, who often preaches a "culture of encounter."
As I listened to Twenty One Pilots at the Fillmore on that frigid, December evening, I was surrounded by young adults with an array of punk rock styles singing every word, but who's to say that a priest can't enjoy their music, either?
To read the blog post by Fr. Damian Ference, click here.