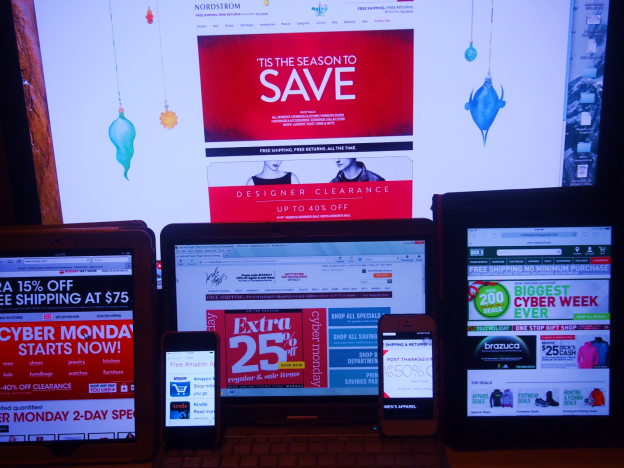 As snow starts to stick to the ground and ABC Family's 25 days of Christmas jingles on to living room televisions across the country, the hustle and bustle of the holiday shopping season begins to set in. With Black Friday and Cyber Monday under our belts, the question of where to finish this season's shopping rings in everyone's mind. Do I stay at home and shop online in my slippers? Or do I go to the mall and shop 'til I drop?
Online Pros
With finals approaching, it is difficult for Mercy students to find a finite amount of time to make an escape to the mall. Online shopping can be done in intervals and many sites typically save your cart so you can pick up where you left off.

Many online offers include free shipping. Additionally, if the vendor you are purchasing from is not located in-state, there is no sales included on your order.

It is fairly easy to compare prices from different vendors online with a few clicks of a mouse. In-store price comparison is tedious and requires multiple levels of management approval.

Door to door delivery is much more convenient for multiple and over-sized item purchases.

There are typically exclusive online deals. Also, there is a greater inventory of colors and sizes online.
Several Mercy students share this cyber friendly frenzy, including junior Jennifer O'Brien.
"I like how online shopping lets me save on gas," said O'Brien. "There are no crowds when you shop online. It's like I'm the only one in the store."
Online Cons
Skipping the trip to the mall forces you to miss out on the touch and feel of the actual products you are buying. When you are virtually at the store, you cannot try on your potential purchases or see their true colors. Also, you miss out on the joy of actually going to the mall.

Many shopping websites, especially department stores, have too many objects to search through. It is hard to narrow down your search to a specific category or brand. In-store organization is much easier to navigate.

Many online return policies are cumbersome and some purchases cannot be returned to your local vendor. After waiting the standard shipping period (3-10 business days), it is disheartening to re-package the box and send it back to the vendor, sometimes not even for a full refund.

Online shopping requires you to wait for your purchases to arrive. If you buy at the mall you have your purchases in hand that same day. Going to the mall fulfills instant gratification.

Online shopping has a larger risk of credit card fraud and identity theft. This is especially concerning when students are just starting to get jobs and securing their own credit cards.
Many girls in the Mercy community would rather make the trip out to the mall than risk their identity or discontent with products.
"It's just easier," said junior Katie Sullivan. "I can see how things look and if I end up not liking what I buy, I can just return it. Online returns are such a hassle."
So during this holiday season, as old St. Nick is making his list and checking it twice, he, too, will be on the look-out for online exclusives and in-store door busters. Shopping online has many positives and negatives, but what is most important is that your shopping list is complete and the happiness of the holidays rings throughout everyone's homes.