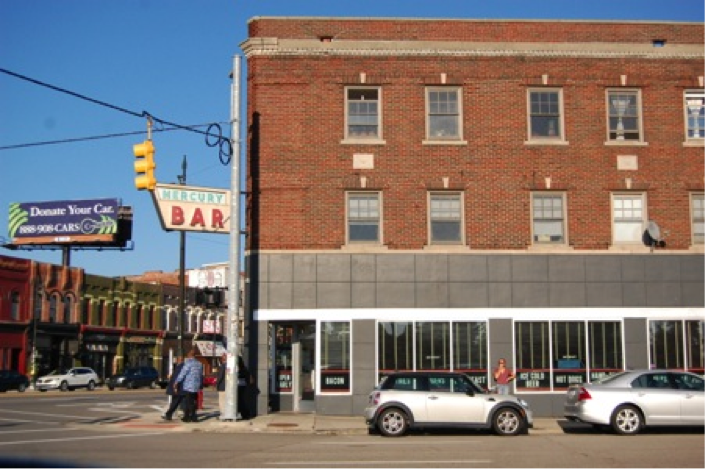 Located in Detroit's historic Corktown, Mercury Burger Bar is the perfect way to end a long, stressful week. With an eclectic menu featuring a variety of hamburgers and sandwiches, Mercury Burger Bar has plenty of options to satisfy your taste buds.
Although not walking distance from Comerica Park and Ford Field,  Mercury Burger Bar is the perfect place to go and eat before a game. The menu not only features hamburgers, but also has a variety of sandwiches and hotdogs. With the menu ranging from a classic BLT to a Murty- bird hotdog, it's almost impossible to find something that you won't enjoy.
I decided to order the Juicy, a  cheeseburger with an interesting twist. Not only is cheddar cheese melted on top of the burger, there is also cheese in the center of the meat. When biting into the Juicy, my mouth was immediately filled with flavor. Although the patty is not very big, the amount of toppings and gooey cheese in the center most definitely left me satisfied.
The menu features an array of classic Detroit dishes, including Boston Coolers, a Faygo orange creamsicle, and, of course, a Detroit hot dog. All meals are within $5-$10, but fries are not included without an extra $2 charge.
The wait staff at Mercury Burger Bar is very friendly and patient. Although the restaurant is crowded on many occasions, the service is still very efficient and the food comes out fairly quickly.
Typically open from 11 a.m. till 11 p.m., except on the weekends, Mercury Burger Bar is the perfect way to satisfy the rumble in your tummy. So stop in and treat yourself to a classic hamburger with a twist, or a refreshing Boston Cooler, and I promise you won't be disappointed.