Cinco de Mayo in Detroit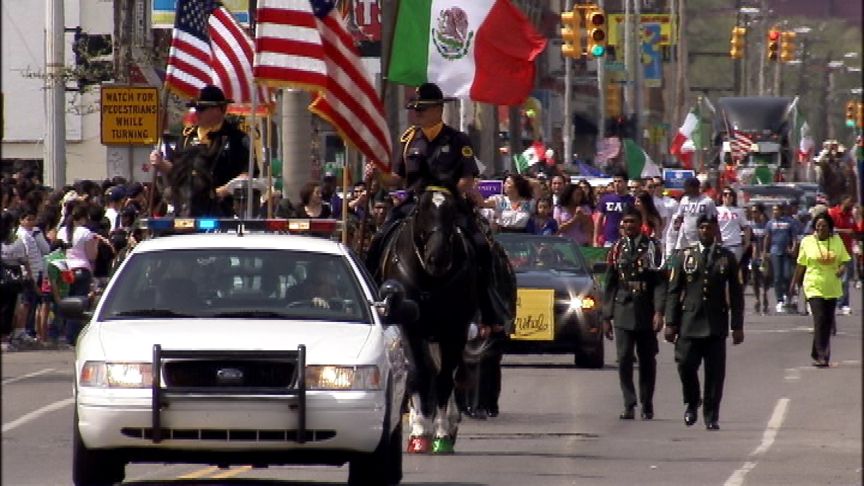 The annual Cinco de Mayo parade was held Sunday in southwestern Detroit.  The parade is more than 40 years old.  Thousands of spectators watched as over 60 floats, marching bands, dance teams, and Latino bands traveled up Vernor Avenue in the Vernor and Springwells Business Improvement District.
Southwestern Detroit is home to a large Hispanic population and about 6.8% of the city of Detroit's population is Hispanic.
Cinco de Mayo celebrates the 1862 Battle of Puebla during the Franco-Mexican war.  In this battle the Mexican army overcame a well-armed French force.  In America, Cinco de Mayo is widely celebrated as a way to honor Mexican culture and heritage.
Mexican flags were waved as green and red beads were tossed from the floats across southwestern Detroit.  Tacos and tamales were sold.  Even babies were dressed festively in sombreros and strollers decorated with streamers.
This year's parade had between 8,000 and 10,000 spectators.  Businesses, schools, labor unions, and politicians from around the region came to watch.  General Motors workers carried GM flags and tossed out candy.  The National Association of Hispanic Nurses had a car decorated in the colors of the Mexican flag. Mayoral candidates, including Benny Napoleon, Mike Duggan and Fred Durhal, walked in the parade, also.