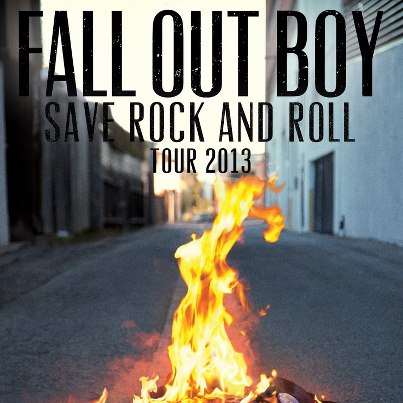 After a failed album and a long hiatus, Fall Out Boy is back.  Their new album, Save Rock and Roll, is an ambitious attempt by the band to reclaim their fan base and climb the charts.  Luckily, the album delivers on every level.
Unlike many other bands attempting a come back with their old, and sometimes outdated, musical style, Fall Out Boy expands their sound from their punk rock roots.  The overall sound of the album leans more towards pop, giving them an advantage with air time on the radio.
The first single released, "My Songs Know What You Did In The Dark (Light Em Up)", has a catchy vibe and begs listeners to get up and dance.  The song is an obvious standout on the album, but not the only one to impress.
"Save Rock and Roll", the album's namesake, features Elton John.  Although a surprising duet, Elton John's sound balances Fall Out Boy's exceedingly well.
However, not all of Fall Out Boy's collaborations were as successful.  "The Mighty Fall" featuring Big Sean and "Rat A Tat" feating Courtney Love fail to impress.  Both songs pull Fall Out Boy too far out of their punk rock comfort zone and sound unnatural.
Other songs like "The Phoenix" and "Miss Missing You" highlight Fall Out Boy's anthemic sound and remind listeners why they were popular years ago.
Overall, Save Rock and Roll is a dance-worthy, high-paced album and is well worth buying.