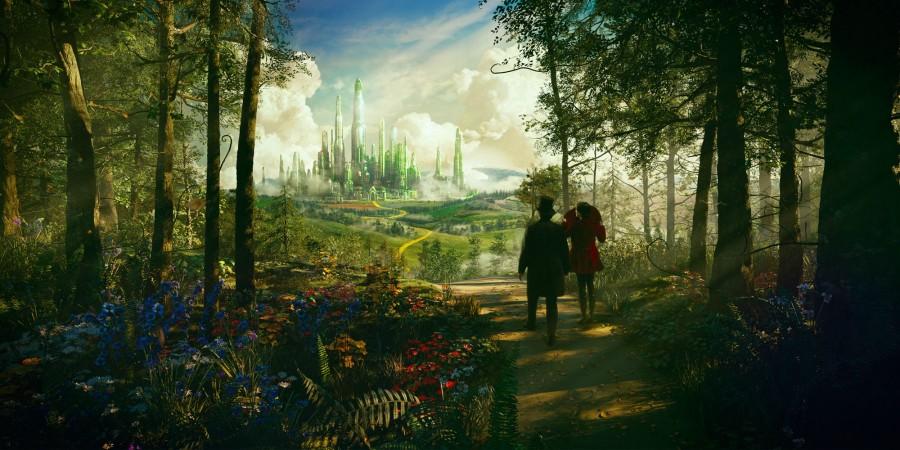 With great power comes great responsibility. This is a lesson often learned after the fact, unfortunately for whoever has to learn it. Such is the case in the film Oz the Great and Powerful. Main character Oz, played by James Franco, sees his wish come true but must come to grips with the realization that all that glitters is not gold in a thrilling tale of adventure set in a wonderland.
Oz the Great and Powerful features mega stars James Franco, Mila Kunis, Michelle Williams, and Rachel Weisz. Franco perfectly depicts the low liar Oz who has delusions of grandeur and wishes to be a great man rather than just a good one. His transition from scam-artist magician in a traveling circus to the good hearted ruler of Oz is believable and exciting to watch. Williams and Weisz also do fantastic work as the Glinda the Good Witch and Evanora, one of the wicked witches. The only performance that is somewhat lacking is Kunis' whose transformation into the hideous and iconic wicked Witch of the West is less than convincing.
The characters that we are familiar with from the old stories of Oz find a new home in the film, and it is a wonderful and colorful world. The film begins in black and white, conveying the dusty and boring world of Kansas in the early 1900s. The opening sequences are also in black and white and boast beautiful graphics that incorporate names of the cast and crew in artful and surprising ways. When Oz is transported to his namesake land, the film transforms into a beautiful display of only the most vibrant colors. Trees with bright red butterflies for leaves and giant green lily pads that create musical notes are only a few of the exciting sights in the land of Oz. The first glimpse of the Emerald City does not disappoint either; it is impressively designed and once again only uses the most dynamic hues of green and gold.
Not only is the landscape appealing, but the costumes in Oz the Great and Powerful are works of art themselves. The various dresses that the witches wear are re-imagined from the originals with modern twists that add a touch of realism to the film in a realm where most everything is from the imagination. The elaborately bejeweled dress of Evanora is lovely, and has story-telling purposes too. As the film progresses and her evil becomes apparent, the gown transforms from emerald green to black.
Oz the Great and Powerful is a wonderful tale of adventure that will satisfy a craving for adventure in all ages. Not only is it a fascinating prequel to the beloved classic The Wizard of Oz (1939), but it features a beautiful background, costumes, and acting that come together to create a magical movie.