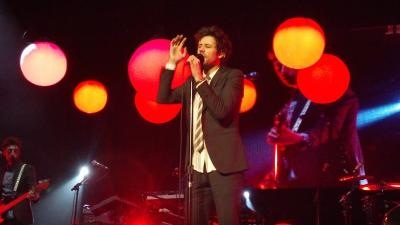 Passion Pit came to Metro-Detroit last Thursday, and the results were incredible.
Opening with Matt and Kim, the crowd immediately felt the overwhelming stage presence. The band, consisting of Brooklyn duo Matt Johnson and Kim Schifino, had an amazing stage presence, dancing around and interacting with the crowd. They also sounded fantastic, and people sang along to their fun and unique music. Overall, it was a great opening act which segued perfectly into an amazing performance by Passion Pit.
Passion Pit opened with "Take a Walk", one of their most famous songs off of their new album, Gossamer, which came out in 2012. The crowd went wild, and everyone sang along. They also played many songs from their older albums, such as "Moth's Wings", "Swimming in the Flood", and "Chunk of Change". They sounded wonderful, and interacted well with the audience. The best moment of the concert was the encore, when they came back on stage to a screaming audience and sang what is probably their most popular song, "Sleepyhead". The crowd loved it.
The concert was a success. "Everyone who attended had a great time with the bands that played, and the energy was very high. Metro Detroit is looking forward to seeing Passion Pit again.