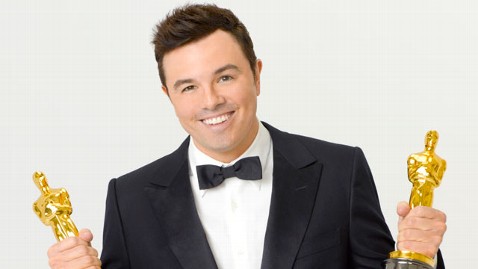 The Academy Awards opened with the beautiful red carpet, which showcased actresses wearing designers such as Valentino and Prada.  Jennifer Lawrence, winner of Best Actress for Silver Linings Playbook, captivated the media in her Dior Haute Couture dress.  Anne Hathaway, who later was awarded Best Supporting Actress for Les Miserable, also stunned the red carpet with a classy Prada dress.
However, the real star of the red carpet was nine year old Quvenzhane Wallis.  Wallis, nicknamed Little Q, was nominated for Best Actress and is the youngest ever actress to be nominated.  She was adorable in a beautiful blue gown, which carefully matched one of her signature doggie purses.
Seth MacFarlane hosted the show, opening with a hilarious song and dance routine that included stars such as Daniel Radcliff and Channing Tatum.  MacFarlane is a comedian and actor most notable for creating Family Guy and helping produce the movie Ted.
The Awards began with the Best Supporting Actor award presented to Christophe Waltz, of Django Unchained.
Among the presentations of the 23 other awards, both Shirley Bassey and Adele performed songs from James Bond films, and the casts of Chicago and Les Miserable performed pieces from their movies.  These performers were invited as part of the Awards show's theme of "Music in Movies."   This was the first year the Oscars had a theme.
The most anticipated awards of the night were announced near the end.  Best Actor went to Daniel Day-Lewis for Lincoln.  He is the first actor to win three Oscars in the Best Actor category.  Best Actress was awarded to Jennifer Lawrence, for Silver Linings Playbook.  Records for either the oldest or youngest Best Actresses could have been made this year if either Quvenzhane Wallis (age nine) or Emmanuelle Riva (age 86) had won.   Finally, Best Picture was awarded to Argo, among eight other contestants.
Below is a complete list of the Oscar wins:
Best picture: Argo
Best Actor: Daniel Day-Lewis, Lincoln
Best Actress: Jennifer Lawrence, Silver Linings Playbook
Best Supporting Actor: Christoph Waltz, Django Unchained
Best Supporting Actress:  Anne Hathaway, Les Miserables
Best Director: Ang Lee, Life of Pi
Best Original Screenplay:Django Unchained
Best Adapted Screenplay: Argo
Best Animated Feature: Brave
Best Foreign-Language Film: Amour
Best Cinematography:Life of Pi
Best Costume Design:Anna Karenina
Best Documentary Feature:Searching for Sugar Man
Best Documentary Short: Inocente
Best Film Editing:Argo
Best Makeup and Hairstyling: Les Miserables
Best Original Score:Life of Pi
Best Original Song:"Skyfall" from Skyfall
Best Production Design: Lincoln
Best Animated Short: Paperman
Best Live Action Short:Curfew
Best Sound Editing (tie!): Life of Pi  and Skyfall
Best Sound Mixing: Les Miserables
Best Visual Effects: Life of Pi