Student Spotlight – Maggie Raftery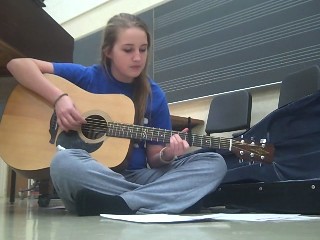 Everyone has a special gift.  Whether you can bend it like Beckham, spit out a hundred digits of the number pi, or consistently dress out of uniform without getting jugged, the Mercy community is the home of an unfathomable amount of talent.  The goal of Newsprint's Student Spotlight, which will be featured every Wednesday on newsprintnow.net, is to highlight one of these talented students and bring them into their much-deserved fifteen minutes of fame.
The first selection for Newsprint's Student Spotlight is senior Maggie Raftery.  Charmingly modest and unbearably talented, Raftery's hidden ability happens to be in the field of music.  Mostly self-taught, Raftery plays around with the piano, the guitar, and vocals.  She also writes her own music.
"Maggie is a natural-born musician," said music director Amy Malaney.  But don't take her word for it; see for yourself.  Check out the following video to learn more about Raftery and see her perform.