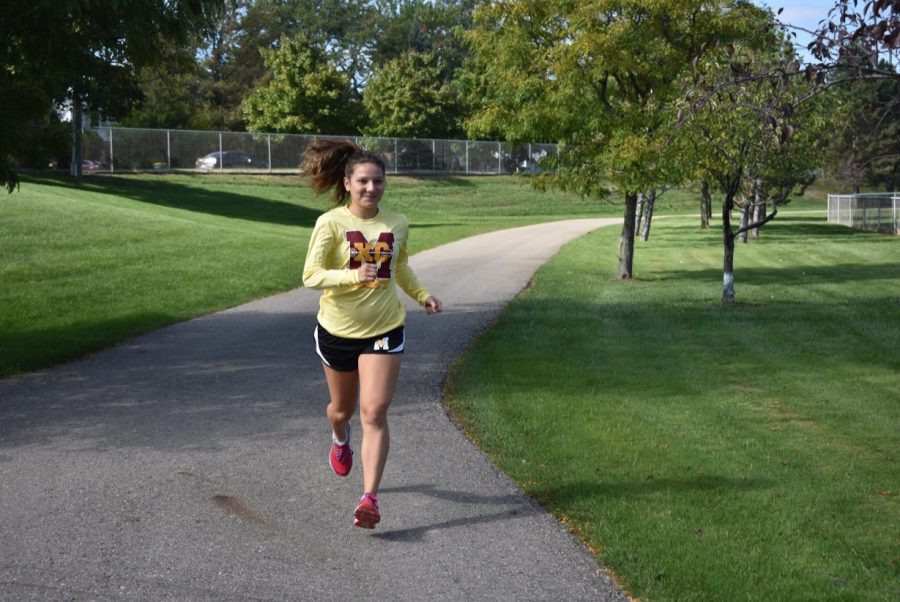 To most people, running is an activity that is dreadful and avoided at all costs. The burning feeling that takes over your lungs and legs makes most people want to give up and swear off running forever. The idea of participating in a sport completely dedicated to running would make most people turn the other way. But for the girls on Mercy's cross country team, running is something they are all passionate about. The feeling of lactic acid through the legs and gasping for air in the final sprint is what pushes them to pass the runners in front of them and beat them to the finish line.
Every year, cross country is one of the most popular fall sports at Mercy. This year is no different. After coming off a coaching change last year and another this year, the team is ready to settle down and focus on their goals.
With a new program director who has been very helpful in correcting the girls on their form and emphasizing the foundations of running, the team has a strong support system to lead them to a successful season.
"[The new program director] has been reminding us all season that it's not about the now, but about how we can improve so we can perform our best at championships," said senior Gabby Pluszczynski, a four-year member of the team.
The first championship challenge the team faces this year is the Catholic league championship title. Each year the team strives to win, and this year is no different. Since August, the team planned their goals for the season and winning the Catholic league was their first big goal. The championship will take place on October 19, and the team has many other meets and invitationals to prepare and achieve good race results to set themselves up for success.
The team has also been trying to raise money for a fully automated timing system so Mercy can host cross country and track meets and get more accurate times for the racers. The team has created a GoFundMe page where parents, alumnae, and relatives can donate, but they are also trying to use the fundraising as an opportunity for team bonding.
"We had a team bonding activity where we called old Mercy cross country alumnae to ask for donations to help reach our goal of $26,000," said Pluszczynski. "The team dynamic is really great and we always have a great time, and a strong dynamic will lead to a successful season."