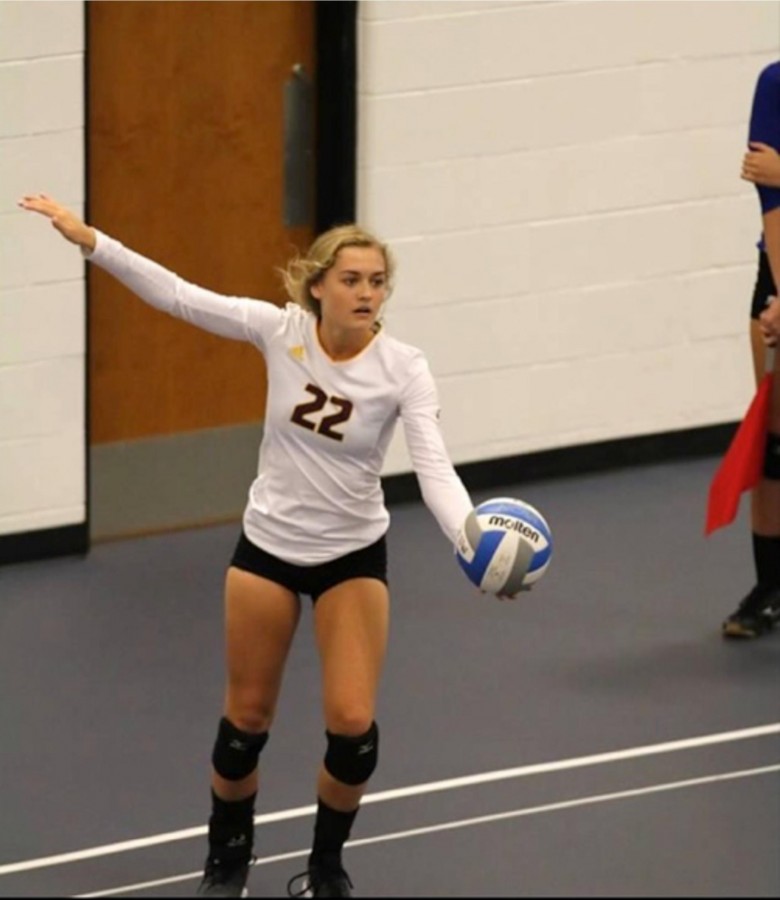 Nine juniors, four seniors, three freshman, and two sophomores. This is Mercy Varsity Volleyball (MVV). On and off the court, these girls have each other's backs. The four seniors are Carmen Compton, Haley Schultz, Sloan Horejsi, and Colleen Hadley, who also serve as the team's leaders. Going into tryouts, the four were slightly worried about the lack of senior members. The girls, however, are able to lead the team to success.
"This year the team had a different feel, as it was a much larger team than years past," said Hadley. "Also, my role changed from follower to leader. It was a transition, but a great experience."
All four seniors take their roles as leaders of MVV very seriously.
"Being a senior on varsity requires a new role to be taken up. I always make sure that my teammates know that I am always there for them," said Compton. "Being a good teammate is the most important part of being a part of the volleyball community."
Each of the four seniors played an important role in keeping up the morale of the team and helping guide the younger players.
"Its cool to be the person the younger players look to for guidance," said Schultz, "because I know how much my seniors influenced me over the years."
MVV had a successful season, advancing to the regional final game against Novi High School. Unfortunately, MVV was unable to triumph over Novi and fell 16-25, 15-25, and 22-25 in the first three matches (the first team to win three out of the five matches wins the game).
Although it was unable to advance past the regional final game, MVV had many victories throughout the season that were huge successes for the team. First of all, MVV won the Howell tournament, defeating many good teams which it faced later in the season. Second, MVV crushed Notre Dame Preparatory High School in the first three matches, 25-21, 25-21, and 26-24. Third, MVV conquered the Marian Mustangs. The game had to go to a fourth match, but Mercy ultimately was the champion, with scores of 25-19, 19-25, 25-17, 25-12.
Although none of these seniors plan to continue playing volleyball in college, many expressed interest in joining an intramural team.
"I had the option, but I want to try something different in college," said Horejsi.
After playing volleyball for six years, Hadley will definitely miss the sport.
"Initially, I thought that I wanted to play in college," said Hadley. "However, I realized the level of commitment isn't for me. I'm sad to let a big part of my life go, but I'm sure you'll be able to catch me on the intramural volleyball team."
Although all the seniors admit they will miss playing for MVV, most of their sadness comes from having to leave all the girls on the team.
"I would not trade my experience for anything," said Schultz, "because I learned many valuable life skills and made some amazing friendships."
"The Mercy volleyball community is always supportive and we become a family," said Compton. "MVV teammates are my friends on and off the court."