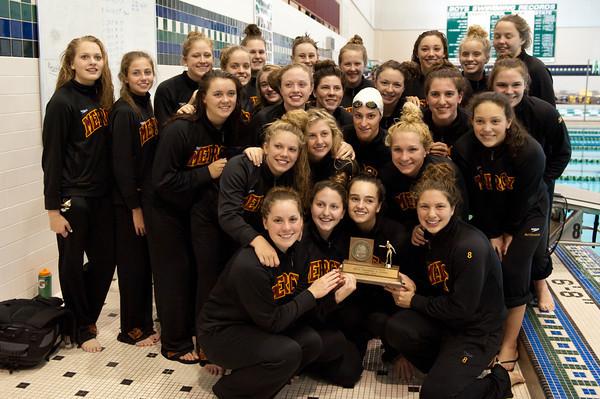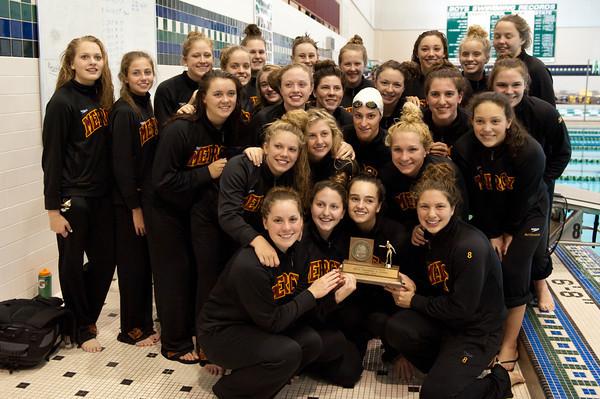 The Mercy Marlins swam their way to their ninth consecutive Oakland County Championship this month.
The Marlins competed in the County Meet on Oct. 5. The Marlins clearly dominated the meet earning a total of 429 points. The second place team, Clarkston won trailed with only 244 points.
Mercy attributes this win to a total team accomplishment, with all of the various members coming together seamlessly. Senior diver Erica Allor started the meet off on a positive note by winning the diving championship. Her win was made even sweeter by the fact that Allor recently broke the school record for six dives.
The swimmers also did their part in contributing to the win. Juniors Kathleen McGee and Roxanne Griffore won the 500 and 50 freestyle events respectively. Also, freshman Alaina Skellett made an impressive debut, winning the 100 backstroke.
Other top finishers for Mercy included seniors Elli Schinella and Emma Michalzuk, junior Maddy Loniewski, and sophomore Ellyse Conn. All three of Mercy's relay teams finished second — behind Birmingham Marian in the 200 medley and freestyle relays and behind Clarkston for the 400 freestyle relay.
The Marlins have earned 14 state qualifiers to date, and they hope to add even more to this number during this year's season. The Division 1 State Championships will be November 21st and 22nd at Oakland University. Before state championships, however, the Marlins do have a few more meets. Their next competition is October 15th against Notre Dame Prep, so make sure to come and out and support this impressive team!