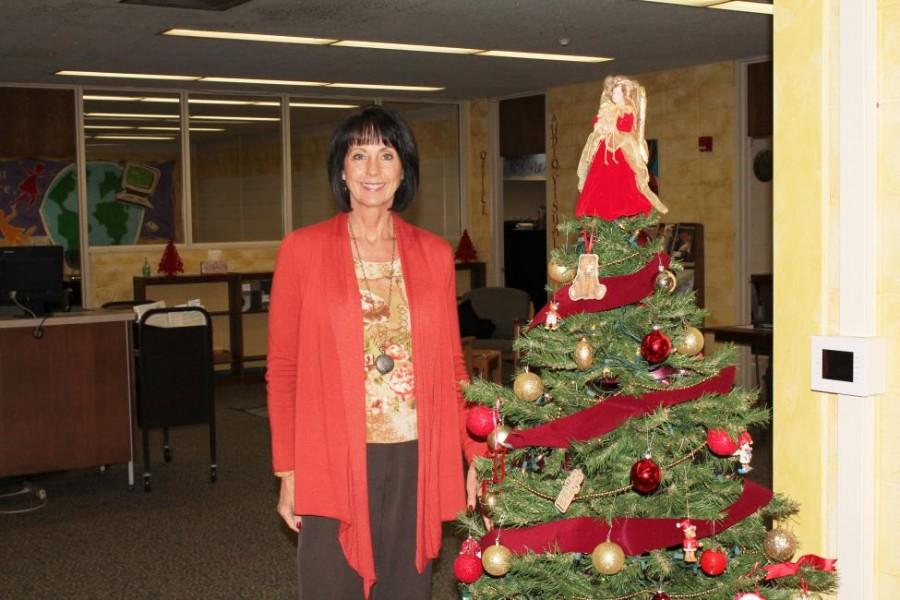 Mercy High School has been donating food to Focus Hope for over 30 years. Thousands of paper bags, piled high with non-perishable items, have been donated to senior citizens courtesy of Mercy students. It would not happen without the help of the media center director, Ms. Cheryl Corte.
For over 10 years, Ms. Corte has been the head leader and organizer for Mercy's annual Focus Hope Food Drive.
"I started out doing the background work and as the years went on, the baton was passed down and now I am the leader," said Ms. Corte.
Ms. Corte's role in facilitating the drive is a very important job. She is in charge of working with a committee each year to plan the drive and the dates. She also works with the Focus Hope Food Drive student representatives so that they can deliver proper information to their advisor groups and speaks at the closing ceremony to share the results of the year's drive.
"I love seeing the school coming together to support a wonderful cause and being able to witness the difference being made," said Ms. Corte.
This year was a good one for Mercy, according to Ms. Corte. Mercy is the largest contributor for the Focus Hope Food Drive and is responsible for providing meals for over 400 seniors each year. In addition to the non-perishable food, Mercy students donated over $3,000 to Focus Hope for the purchase of perishable food items this year.
Ms. Corte believes her passion for helping others is God-given. She plans on continuing on with her work with Focus Hope, possibly through December.
"There is a huge need for delivery and food aside from [during] Thanksgiving," said Ms. Corte.
She loves adding in special treats for the seniors when she fills up her donation bag.
"I sometimes give candy bars like a 3 Musketeers or little sweets like that," she said.
The next service opportunity Ms. Corte will be assisting with is the school-wide Christmas Gift Drive.
"If we all just did our one small part," said Ms. Corte, "it is amazing what the outcome could be."