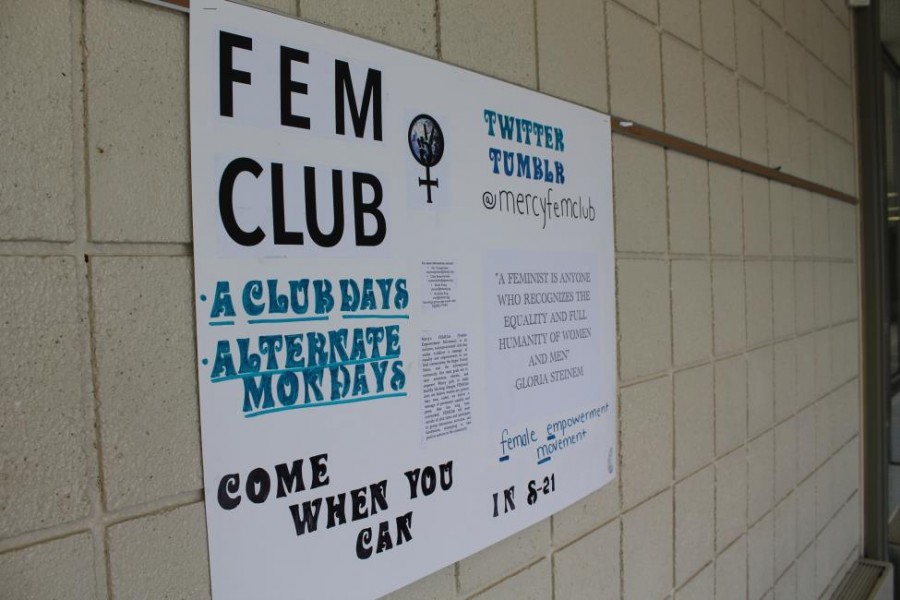 You hit like a girl.
You run like a girl.
You throw like a girl.
These are a few phrases that have a negative connotation which belittle women and their talents.
Since we were very young, we knew when we did something "like a girl" it was never a compliment.
One Mercy student in particular, freshman Brooklyn Rue, was fed up with the negativity surrounding women and women's rights. Instead of being passive, Rue, along with her fellow classmates Maria Pizzo and Clare Brees-Oswald, helped create Mercy's first ever Feminist Club. With the help of moderator Abigail Youngerman, the club meets every other Monday and on A Club Days.
Here's what Rue said in a recent interview:
Q: Was there any specific event or something someone said that really motivated you to take a stance about feminism?
A: I didn't actually know what feminism was until March of this year. I remember my mother showing me a video of Tavi Gevinson, the creator of "Rookie Mag"– which is a feminist magazine aimed at female teens–, giving a TED talk. I was so moved. She was only 15 when she decided to create the magazine, and I remember feeling like I was supposed to do something big too. Creating a feminist club surely isn't as big as creating a…magazine available internationally, but it's doing something. Feminism was something that just immediately resonated with me and made sense. As soon as I heard about it, I felt it was a part of me.
Q: How did you decide to begin the feminism club?
A: I was on twitter following the "YesAllWomen" hashtag and was moved by some of the feminist tweets and shocked by some of the anti-feminist ones. The tweets spoke a lot about rape culture, and I was very interested. I spoke with a friend of mine, Maria Pizzo, and we had the exact same opinions on the issue. I later spoke with another friend…, Clare Brees-Oswald, and she felt feminism was important to her too. All of us shared a common thought: since Mercy is such an active school that works to help young women move up in the world, how does this club not already exist? Maria and Clare have been such incredible people to work with in creating the club, and our first meeting went spectacularly. I've also always been a little bit of an activist. It's something I… definitely inherited from my mother. I organized a walk for my school to raise money for impoverished children in India in second grade–with the help of a teacher…–, campaigned with my mother for Obama during his first running for president, and recently protested in support of Barb Webb at Marian High School. I think that I have always been a feminist, but I just didn't know there was a word that described so well who I am.
Q: What do you have to say to people who believe feminism is just women hating men?
A: There is a huge misconception of what feminism truly is. Feminism is about equality. Feminists are people, both males and females, who believe women are deserving of equal rights and equal opportunities throughout the world. Feminists aren't just a bunch of man-haters. Feminists aren't women who think of women as 'victims'. In reality, I think a lot of women and men are feminists without even realizing it. Lots of people oppose the word 'feminism' because they think that the word is used to put women above men. The reason feminism is called such is because it is focusing on the issues that women specifically face. I think that a big problem currently is that many women don't know about inequalities they are facing. Some people think that women and men are completely equal because women have some basic rights like voting, but that does not mean that women are entirely equal.