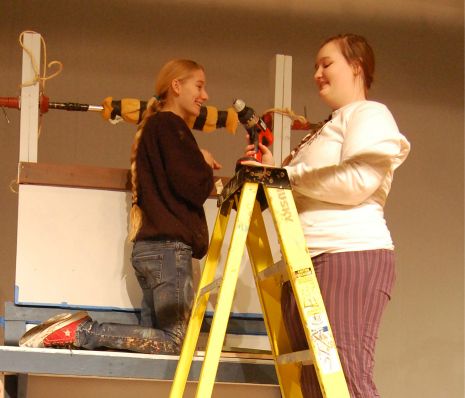 Mercy senior Mariel Mulqueen suffered injuries in a severe car accident on March 2.  Mulqueen, a senior who worked on the stage crew of the spring musical, Annie Get Your Gun, is expected to be out of commission – and out of school – for approximately one month.  Now, the cast and crew of Annie Get Your Gun are determining how to proceed without her at stage left.
"This hit us hard," said Rebecca Kmiecik, a sophomore, of the stage crew.  "We go to work together every Saturday, eat lunch… we're like a family.  So finding out that something happened to her really hit us."
"It's like having your sister in the hospital," said junior Kelsey Ellis, another crew member.  "Everyone loves Mariel.  She brings a lightness and happiness to stage crew that is unique."
Mulqueen was responsible for opening the grand valance – the gold curtain that opens the show – along with raising and lowering backdrops.  Short one member, the rest of the stage crew is working extra hard to keep up.
"We've had to do things faster, work harder because of the one person gone.  I have to open the black curtains and the travelers now and pull them to their marks, and then I have to pull down a few extra drops," Kmiecik said when asked about her changing role backstage.
Other stage crew members are filling in for Mulqueen at the grand valance, lights, and the rest of the backdrops.  However, this requires additional work for girls with other jobs, and the stage crew must literally learn the ropes of their new tasks with less than one week left until opening night.
"The responsibilities have changed slightly," Ellis commented.  "But we're less concerned about filling her position than we are for Mariel herself."
Even though Mercy's musical will continue as scheduled, it is clear that Mulqueen will be missed.
"Mariel brought a lot of jokes and energy backstage," said Kmiecik.  "She lifted our spirits.  She was a really big part of this show.  It wasn't just doing her job, but bringing our moods up, keeping our emotions positive."
"It's something that needs adjusting," said Ellis.  "You expect to walk backstage and hear her sing-song voice filling the air telling you fun facts about some random thing. I don't think it has made our job more difficult in a technical sense, but it has made it hard in the sense of morale.  She'll be there in spirit, of course, but I think the entire process will be bittersweet."
Some cast and crew members plan to visit Mariel in the hospital as she recovers.  Mrs. Kathy Sill, who directs the show, led the cast in prayer for Mariel's recovery at the musicians' rehearsal on Sunday, and she has requested that participants' performances be offered up in her name.