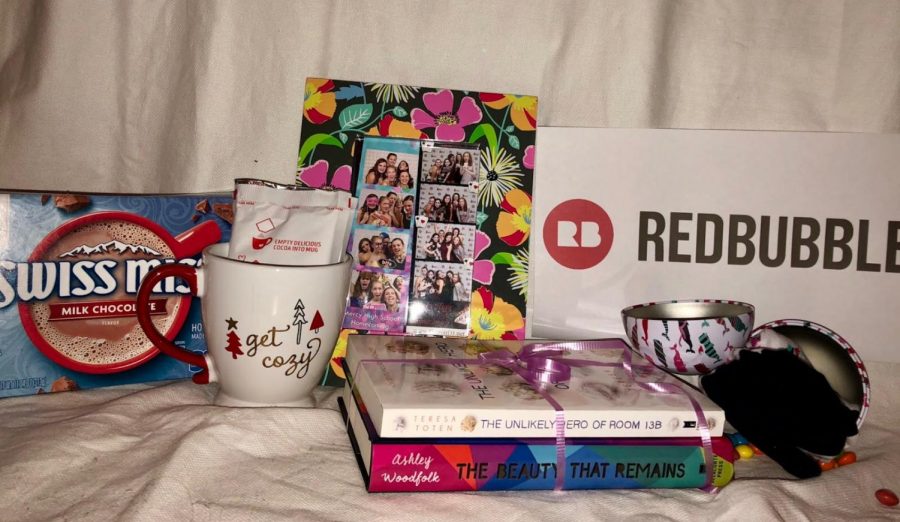 Stumped by what to get your secret Santa on a budget? Don't worry, Newsprint has you covered with five fast and cheap gift ideas.
Our first idea is a sure fire win. Socks, candy, and an ornament? How could it get any better! For this gift, purchase one pair of fuzzy socks and a bag of candy from your local dollar store. For my ornament, I bought it at Target for $4.99. Any ornament that can split in half and hold goodies is perfect. Then, place the candy and socks (or even substitute in a gift card) and you are good to go.
For your hot chocolate or coffee-loving friends, this gift will be the perfect thing to give. Starting with a $5.99 mug from Target, I added hot chocolate packets, peppermints, and more candy.
A picture frame filled with memories of you and your friend is an easy, yet extremely sentimental gift. With frames for as low as $3.99 at CVS, this gift gives you the most bang for your buck. CVS and most local drug stores have a kiosk to print pictures from, a great option if you don't have a printer and photo paper at home. To add a final touch, write a sentimental note to your friend on the back of the frame for him or her to read later.
For the book worms in your friend group, this is sure to be one of their favorite gifts all year! Simply buy two books you believe they would like. If you can't think of any, asking for recommendations from employees for best-selling teen books, or your friend's favorite genre, will point you in the right direction. Tie books together with ribbon and add a card for the perfect gift.
As our final gift, we mention a popular website, RedBubble, a website run by Amazon that sells personalized items. For many Mercy girls, their iPads and water bottles are covered with multiple stickers. For your gift, order as many stickers as you'd like and put them in a decorative box or envelope!