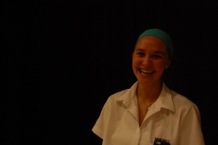 "Love is not a feeling; love is a choice that you have to make daily."
To love isn't the only choice we have to make every day. People are constantly making choices that will affect their lives and the lives of those around them. For junior Jacqueline Welday, her daily choice is to grow in her faith.
"I read my bible every night," said Welday. "I just finished Proverbs. I've probably read two thirds of the New Testament and I started going into the Old Testament now. One of my favorite quotes is 'a happy heart makes the face cheerful.' It's Proverbs 15:13."
In addition to regular bible reading and the requisite Sunday church visits, Welday attributes her love of God to her experiences at Bair Lake Bible Camp.
"I volunteer at a bible camp," said Welday. "That's where my faith started taking off."
Welday started going to the camp six years ago and it has been a staple of her summer ever since. This past summer she spent two separate two-week periods there, one to experience the camp herself and another to counsel younger children.
Her memories of the camp range from stereotypical summer camp activities to profound moments when she experienced God.
"We do this thing called stations," said Welday. "They set up a bunch of stations to go to and it's a personal reflection with God. They have a quiet prayer room and I sit there and pray for a while. I get to just be with God and it's really moving. I just sit there and end up crying the whole time."
Although not on the level she witnessed at camp, Welday makes the effort to talk to God daily.
"Love is undefinable just like God," said Welday. "In Psalms it talks about how God is unsearchable and no matter how much we know about Him, there's no way we can know everything. He reveals so little but to us it's so much and that's why God is so great."